Updates!
Welcome to The Romantic Scholar, a book review blog. Thanks for stopping by and I hope that you enjoy your stay.

After an eight month long hiatus, I am back. And I could not be more excited about it.



***My comments are located at the top of my posts***

Tuesday, June 2, 2009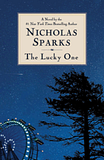 This is my first Teaser Tuesday!! It looks pretty fun. Teaser Tuesday is brought to us by Should Be Reading. This teaser is from Nicholas Sparks' The Lucky One. Hopefully I don't include any spoilers!!
"He barely heard them. Instead, all he could think was that he now had a name to go with the face, and that the next step was to meet her." (pg. 65)
Rules:
1) Grab your current read.
2) Open to a random page.
3) Share two (2) "teaser" sentences from somewhere on that page.
4) BE CAREFUL NOT TO INCULDE SPOILERS!! (make sure that what you share doesn't give too much away! You don't want to ruin the book for others!)
5) Share the title and author, too, so that other TT participants can add the book to their TBR Lists if they like your teasers!